Skip to Content
Tire Alignment in Millersville, MD
Protect & Maintain Your Car with Wheel Alignment
Your car's wheel alignment is the direction in which its wheels are pointing. Wheel or tire alignment has a significant impact on your car's performance, lifespan, safety, and efficiency. For instance, poor car wheel alignment can cause your tires to wear down faster and make your car harder to handle. At Maryland Mufflers, we offer professional tire alignment in Millersville, MD. Our certified technicians have years of experience caring for vehicles of all makes and models, foreign and domestic. Call us today to schedule an appointment for professional wheel alignment.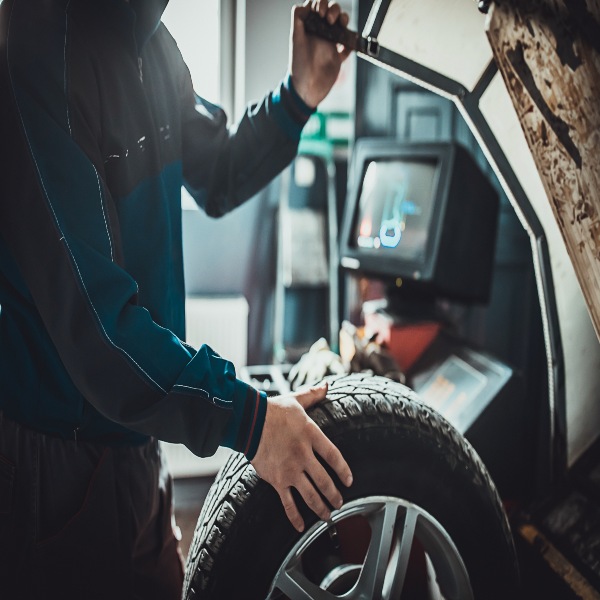 The Importance of Proper Front Wheel Alignment
Tire alignment, also called wheel alignment, is a necessary element of routine vehicle maintenance. Over time, wear and tear on your car will cause its chassis to bend and settle, and your wheel alignment will get progressively out of place. When you bring your car in for a wheel alignment, we adjust the suspension, not the wheels or tires. These adjustments are very important, as they maintain the performance and safety of your vehicle. If your wheels and tires are not aligned, your tires can become damaged, which affects how the vehicle handles. When your suspension is out of alignment, the pressure on your tires is uneven, and your car will work harder than it should. Eventually, this will cause steering issues and poor maneuverability.
Signs Your Vehicle Needs 4-Wheel Alignment
It's important to be aware of the early warning signs that your car needs auto repair services or engine maintenance. When we catch problems early enough, they will often be faster, easier, and less expensive to repair. If you aren't aware of an issue with your car's wheel alignment, or if you ignore it, the problem will get worse over time. Eventually, your car might be difficult to manage or unsafe to drive. Schedule an appointment with us if you notice any of these signs your vehicle needs wheel alignment:
Rapid or uneven tire wear.
Your car is pulling to the left or right while driving.
Your steering wheel appears crooked even though you are driving straight.
Your tires make a squealing noise.
The steering wheel vibrates while driving.
Your steering is noisy.
Types of Poor Wheel Alignment
There are different ways your vehicle's wheels can become misaligned. The degree or severity of misalignment, plus the type of misalignment, will affect how we proceed with our services:
Negative Caster – The steering axis is behind the vertical.
Positive Caster – The steering axis is in front of the vertical.
Toe In – The wheels are pointing inwards.
Toe Out – The wheels are pointing outwards.
Negative Camber – The wheel is tilted inwards.
Positive Camber – The wheel is tilted outwards.
Benefits of Professional Tire Alignment
When wheel alignment is completed by a professional, your vehicle will always feel stable while you're driving. When you accelerate, brake, or corner, you will feel in complete control of your vehicle and won't experience any performance issues. Because wheel alignment is such a precise, controlled procedure, you must visit a certified auto technician who understands your make and model of vehicle. The benefits of visiting a professional are:
Better fuel efficiency.
Reduced risk of auto problems.
Lower chance of needing expensive auto repairs.
Smoother driving experience.
Increased vehicle safety.
Extended lifespan for tires.
Reduced road noise.
Our Wheel Alignment Service in Millersville, MD
Our experienced technicians can quickly assess your car and its condition and performance. We can then determine what auto services are needed. There are three important elements involved in wheel alignment services: the car's camber, caster, and toe. We use innovative, state-of-the-art equipment to measure the angles of each of these three elements. We can then make precise adjustments to your car's steering geometry and suspension system. We will continue with these adjustments, checking our work each step of the way until the car's wheel alignment is restored to factory specifications.
Schedule Your Wheel Alignment Service
Call us today to schedule a tune-up, auto repairs, or wheel alignment in Millersville, MD. We can handle any issue with your car, big or small. Our courteous, knowledgeable auto technicians work efficiently to identify and solve auto issues and restore your car's performance, safety, and efficiency. We serve valued customers throughout Annapolis, Baltimore, Bowie, Columbia, Crofton, Crownsville, Glen Burnie, Millersville, Odenton, and Pasadena. Call us today or contact us online to request a free estimate or to learn more about our wheel alignment service.
Free Estimates & Discount Prices Available