Skip to Content
Visit Maryland Muffler for Brake Repair
Brakes don't wear down on a schedule, but Maryland Muffler is here for you when you need brake service and repair in Millersville, MD. The condition of your car's brakes depends on where and how you drive. Your brakes are one of the most critical systems to maintain to keep your vehicle safe on the road. If your brake pedal feels spongy when pressed or you hear a "cricket" sound while braking, you should immediately bring your vehicle to us for a visual inspection or road test. Our trained technicians will determine your brake repair needs and perform the job quickly while ensuring your safety. We offer high-quality, vehicle-specific applications at competitive prices. Our team uses the highest-quality parts to reduce vehicle downtime and the need for additional repair visits. Learn more about our brake service and schedule an appointment today.
Why Quality Brakes Are Essential for Safe Driving
Without the ability to stop, your vehicle would not be suitable for safe driving. Your brakes allow you to come to a stop slowly or immediately when necessary. If your brakes fail, you're more than likely going to be involved in an accident. That's why taking care of brake problems early is so essential. Many vehicle owners don't understand how brake pads or rotors work. These components perform the hard work of slowing down and stopping your vehicle. Be sure to bring your vehicle to Maryland Muffler at the first sign that you need brake repair.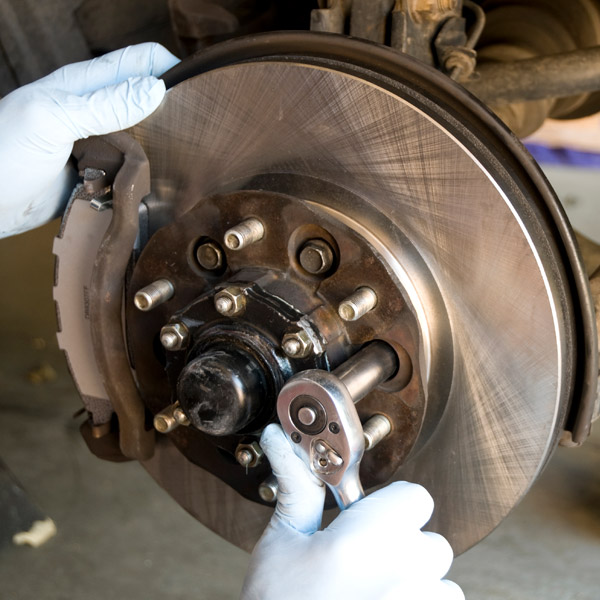 How to Tell Your Vehicle Needs Brake Service
It's critical to know when your vehicle needs brake service, so you stay safe on the road. You should never take chances with your brakes. While a grinding or squealing sound may just seem like a nuisance, it could be more dangerous than you think. Never settle for an ineffective braking system. Our team of expert mechanics provide thorough brake inspections and can fix any issue with your vehicle's brakes. Be sure to be aware of the following signs that your vehicle needs brake repair service:
Delayed stopping time
Brake light flashing
Brake pedal feels mushy
Squealing or grinding brakes
Fluid leaks around the wheels
Vehicle pulls to one side when braking
Vibration while braking
Car jerks to a stop when braking
Steering wheel wiggles while braking
Why You Should Choose Us for Brake Service
Driving in Millersville, MD with bad brakes puts yourself, your passengers, and others on the road in danger. You shouldn't trust jobs like brake repair and brake line repair to just anyone. Maryland Muffler has been keeping drivers safe since 1981. We service all makes and models, both foreign and domestic. All our technicians are thoroughly trained and experienced. We get the job done right the first time, and our services are quick and affordable. You can rest easy when you trust us for brake service because we provide a 100% customer satisfaction guarantee. We also offer free estimates and have discount prices available.
Tips for Brake Maintenance
There are certain things you can do to help your vehicle's brakes last longer. First, keep an eye on your rotors. Any signs of wear or rust should be a sign to bring your vehicle to Maryland Muffler. Another thing you can do is to make sure your brake fluid is clean and filled to the proper levels. Most manufacturers recommend having your brake fluid changed every 25,000 miles. Having your brakes and brake pads checked once a year is also a good practice to follow. One driving practice you can improve to extend the life of your brakes is to coast to slow down before you apply your brakes whenever possible. Finally, investing in good, reliable brakes can save you money in the long run while keeping you safer.
Schedule Your Brake Service Today
You don't want to take any chances and drive around for longer than you should without having your brakes repaired. Delaying this vital service can put you at risk and can cause damage to your brakes and other components of your vehicle. Contact Maryland Muffler today to schedule your free estimate for brake repair service in Millersville, MD.
Free Estimates & Discount Prices Available