Skip to Content
Learn More About Our Auto Muffler Service in Millersville, MD
High-Quality Vehicle Repairs & Routine Maintenance Since 1981
Maryland Muffler always goes above and beyond for our customers to ensure vehicles remain safe and reliable. Our family-owned and -operated auto muffler service in Millersville, MD has been looking out for your vehicle maintenance needs since 1981. We service all makes and models, both foreign and domestic. Whether you need a new catalytic converter or it's time for a routine oil change, we've got you covered. Our technicians have extensive experience and are committed to maintaining a standard of excellence unsurpassed by others in the industry. Regardless of what your vehicle needs, we can help!
Local Drivers Trust Our Reliable Auto Maintenance Services
Over the years, Maryland Muffler has become synonymous with high-quality auto maintenance services. You can rest assured we complete quality control checks every step of the repair process to ensure your vehicle is safe to drive afterward. Maryland drivers rely on us for all of the following and more:
Exhaust System Repairs & Replacements – As exhaust system specialists, we excel at repairing and replacing mufflers and catalytic converters. Our shop is a licensed Flowmaster™ and MagnaFlow™ dealer to ensure access to the industry's best parts and components. When you need auto muffler service in the Millersville area, bring your vehicle to our friendly experts.
Brakes-Service – Drivers rely on brakes and their ability to stop their vehicles for safe driving. If anything seems amiss with your brakes, bring your vehicle to us for brake repair. Our brake service experts recommend having your brake fluid changed every 25,000 miles and checking your brakes and brake pads annually to ensure everything's in good shape.
Shocks, Struts, & Suspension Improvements – The safety of your ride depends on having reliable brakes, shocks, and struts. Your vehicle's suspension system keeps you comfortable on the road, absorbing the impact whenever you hit a pothole or other road debris. Our team can help you improve the smoothness of your ride with the best shocks, struts, and suspension.
Trailer Hitch Installations – Our service technicians can help you find the right trailer hitch to haul your favorite recreational vehicles safely across Maryland. We'd also be happy to suggest trailer hitch accessories, including portable steps, grill stations, hammock seats, and more to keep you comfortable on the road. Count on us for all your trailer hitch installations and repairs.
Routine Maintenance – Keeping your vehicle in the most pristine condition is in your best interest to protect your investment. Our certified technicians specialize in routine maintenance services, including oil changes, tire rotations, and emission repair services. We'll do our best to keep your engine running like a well-oiled machine with routine maintenance.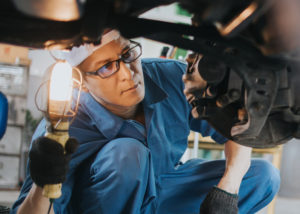 What Are the Benefits of Maintaining Your Vehicle With Us?
Driving a vehicle is a privilege that comes with responsibilities. Maintaining your vehicle enhances your driving experience and allows you to enjoy your ride for many years. Keeping up with suggested tune-ups, oil changes, and brake inspections is necessary to prevent accidents. However, maintaining your vehicle isn't merely about safety. Routine maintenance helps enhance your vehicle's performance and reliability, ensuring a longer service life and return on your investment. When you keep up with routine maintenance services, it can also help you avoid more expensive auto repairs down the road. Improve your quality of life and your vehicle's resale value by scheduling routine auto maintenance at Maryland Muffler. Our expertise knows no bounds, as we service a wide array of cars, trucks, and SUVs.
Why Choose Maryland Muffler Instead of Our Competition?
Maryland Muffler has serviced the auto repair and maintenance needs of multiple generations of families over the past 40+ years and even various vehicles for many individuals. Our customers hail from Millersville and surrounding areas, including Annapolis, Baltimore, Bowie, Columbia, Crofton, Crownsville, Glen Burnie, Odenton, and Pasadena. Thanks to our many decades of dedication and expertise, you can drive away from our shop with peace of mind. Browse our testimonials to see what other local drivers have said about their exceptional customer experience with us. We always aim to please!
Contact Us to Inquire About Our Specials and Discounts
While many depend on our auto muffler service in the Millersville area, that's not all we do. Our service technicians would be happy to help you with anything from routine maintenance to emergency brake service. Our mission is to keep our customers safely on the road with high-quality vehicle maintenance. Visit Maryland Muffler today for all your auto maintenance needs at competitive rates. Contact us to learn more about our ongoing specials and discounts designed to save you even more money.
Free Estimates & Discount Prices Available