Skip to Content
Professional Muffler Replacement & Repair
As Millersville's exhaust system experts, Maryland Muffler specializes in muffler repair. A properly-working exhaust system on your car can help protect the environment, as well as the health of fellow drivers and pedestrians. Our team of experienced mechanics excels at repairing mufflers and catalytic converters for vehicle owners in Millersville, MD, and the surrounding areas. The right exhaust system will not only provide health and environmental benefits, but it will also make your automobile more beautiful and make it sound better. Our team has been perfecting our craft and gaining unmatched exhaust system expertise since 1981. Visit us today to learn what we can do for your vehicle's exhaust system.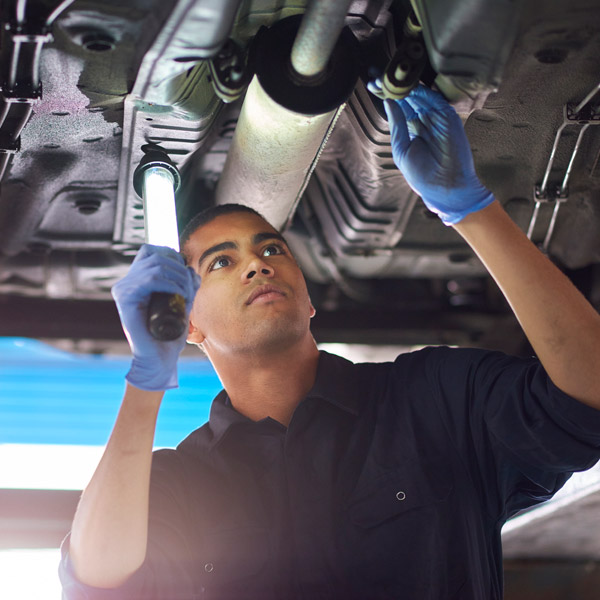 Common Signs of Exhaust Problems
There are many essential components and systems in your vehicle, and many of them have warning signs to look out for. The same holds with your exhaust system. As one of the hardest working systems in your car, your exhaust system does its job by routing harmful fumes away from the engine and passenger cabin. A leak in the exhaust system causes your engine to work harder, which puts you at risk for inhalation of hazardous fumes while reducing your fuel efficiency. Learn more about the following signs of exhaust problems and contact us right away if you notice any of them:
Decreased Fuel Efficiency – There are a lot of reasons why you may experience fewer miles per gallon, but an exhaust leak is one of the more common ones. Exhaust leaks make your engine operate at a higher temperature, which reduces fuel efficiency.
Increased Engine Noise – An exhaust leak will cause a loud rumbling sound. One of the duties of the exhaust system is to keep the engine noise down. If there's an engine volume increase, you could also be at risk from harmful fumes, so it's essential to bring your vehicle in for service immediately.
When to Choose Us for Muffler Repair & Replacement
With about 40 years of experience, our technicians have worked on all makes and models of vehicles, both foreign and domestic. It's especially important to be environmentally friendly in this day and age, and our muffler repair service can help you do just that. We can perform emissions testing at our Millersville garage to help you determine how clean your car's gases are. Excessive unclean emissions can cause you to fail an inspection, costing you time and money. These emissions can also negatively impact the health of others, and faulty exhaust systems can result in a burned exhaust valve or other engine problems. Our technicians can repair or replace your exhaust system to make sure your vehicle functions properly. We're even able to customize an exhaust system just for your car. We're proud to be a licensed Flowmaster™ and MagnaFlow™ dealer, so you can rest easy knowing you are receiving industry-leading products to match our exceptional service.
Tips for Muffler Maintenance
We all want to extend the life of our vehicles and make sure they're operating optimally. There are a few tips for extending the life of your car exhaust system as well. First, don't drive your vehicle if your check engine light is on. The only place you should drive your vehicle with this light on is to Maryland Muffler. Another tip for keeping your exhaust system healthy is to combine your errands rather than making separate trips. This will keep your engine warm. Finally, avoid driving over potholes and debris, if possible. Be sure you get a regular undercarriage inspection if you take your vehicle off-roading.
Expert Muffler & Catalytic Converter Service
In addition to muffler repair and replacement, another critical element to your vehicle's exhaust system is the catalytic converter. This device converts hydrocarbons, carbon monoxide, and nitrogen oxides into harmless compounds, protecting the environment and those around you. Maryland Muffler can repair or install the catalytic converter in your vehicle, regardless of its age or type. Our staff is trained to deal with standard, custom, and performance catalytic converters. Improve the sound and performance of your car, truck, or SUV with catalytic converter repairs in Millersville, MD. We're also the team to trust when it comes to brake repair, trailer hitch and axle repair, shocks, struts, and suspension, routine maintenance, and more. We proudly offer free estimates, so don't hesitate to schedule service today.
Free Estimates & Discount Prices Available