Skip to Content
Steering Column Repair in Millersville, MD
Steering Column Replacement & Repair
Your vehicle's steering column allows you to maintain safe control over your vehicle. A problem with the steering column can cause safety and liability issues, making it harder to drive and steer. At Maryland Muffler, our certified auto technicians have years of experience assessing and evaluating the safety and performance of steering columns and their components. We use state-of-the-art equipment and diagnostic testing to determine if there is a problem with your vehicle's steering column. We can then perform professional steering wheel repair or steering column replacement. Call us today to make an appointment for an inspection or steering column repair in Millersville, MD.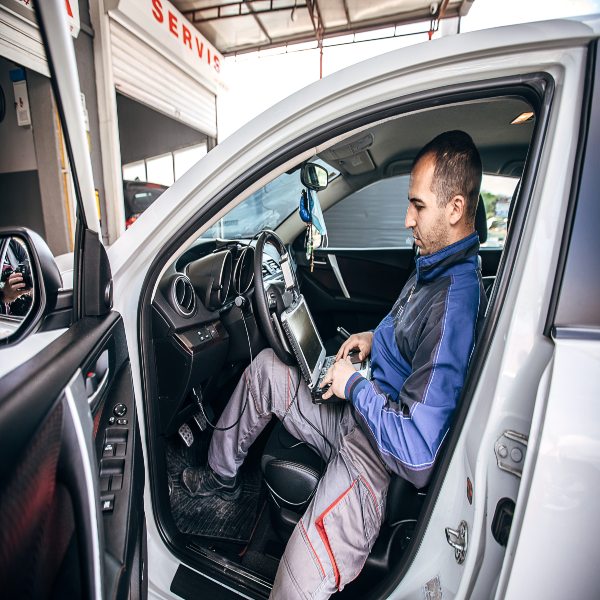 What Is a Steering Column?
The steering column of your vehicle is attached to the steering wheel and the steering gear. Its primary function is to transmit torque from the steering wheel to the steering gear, so the car steers safely and properly. The steering column also holds other vital components – the ignition switch, windshield wiper controls, turn signal switch, and other electrical components. The type and structure of the steering column varies based on the make and model of the vehicle. Some are tilted or telescopic, which allows the driver to adjust the position of the steering column to improve their comfort and make it easier to control the vehicle. Others may be collapsible or have energy-absorbing mechanisms. Some have power steering systems.
The Importance of a Strong Steering System
The steering column plays an important role in maintaining the safety and performance of the vehicle. It forms a connection between the steering wheel and gearbox and allows you to change the vehicle's direction safely and smoothly. It also houses key components for controlling your vehicle:
Ignition Switch
The ignition switch starts the engine and keeps it running.
Turn Signal
The turn signal tells other drivers your intentions.
Windshield Wiper Controls
The windshield wiper controls ensure you can maintain a clean, visible, and safe windshield in dangerous weather.
When there is a problem with your vehicle's steering column, the safety and performance of your vehicle is compromised. It may be harder to steer, your vehicle's suspension system may be affected, or the vehicle may not respond properly to your steering movements. Other vital elements and controls may malfunction or may not work at all.
Common Steering Problems
Understanding the most common steering problems that vehicles experience will help you explain the issue with your vehicle when you bring it in. When a vehicle has little to no upkeep, it is at a greater risk of developing one of these problems:
Loose Steering Wheel – This occurs when the steering wheel has more movement than it should, even if your vehicle is driving straight. You may also experience a gap in time between when you turn the wheel and when the wheel responds. This makes it hard to control your vehicle, especially at high speeds or if you need to make a sudden adjustment. A loose steering wheel can be due to a worn steering column, a loose steering rack and box, or worn steering linkage and ball joints.
Stuck Steering Wheel – A stuck steering wheel occurs when the wheel is hard or even impossible to turn. This issue may be because your steering fluid level is too low, your power steering pump is damaged, you have broken or faulty steering parts, your steering system is frozen, or the power steering belt is broken. If your steering wheel is stuck, you must stop driving immediately.
Steering Wheel Vibration – This condition occurs when the steering wheel shakes or vibrates while driving. It may happen due to unbalanced tires, worn suspension, misaligned wheels, warped brake motors, or loose or worn steering components.
Noisy Steering Column – A noisy steering column is when strange sounds occur when driving or sitting still, like clicking, popping, squeaking, or grinding. This may be due to worn or damaged steering components, loose bolts or screws, or improper lubrication.
Signs Your Vehicle Needs Power Steering Repair
You should also be aware of the warning signs that your vehicle needs power steering repair or steering column replacement. Call us today if you notice any of these issues:
Restricted movement of the vehicle when turning the steering wheel.
Steering wheel binds feel heavy.
The steering wheel feels loose when turning it.
You hear a high-pitched noise when turning the steering wheel.
The tilt mechanism doesn't lock into place.
The steering wheel doesn't return to the center.
Why Choose Maryland Muffler for Steering Wheel Repair
At Maryland Muffler, we have been providing quality workmanship and exceptional customer service to our community since 1981. We value our customers and are committed to providing auto maintenance and repairs with honesty and integrity. We always offer an upfront estimate for the cost of our auto services, and we are transparent about our charges. We will never pressure you into a product or service you don't need, can't afford, or don't want. Our mission is to provide top-tier service for drivers in our community. Nothing is more important to our team than the safety of our clients. In addition to steering repair services, we also offer fleet repair services, suspension and transmission repair, and clutch repair services.
Contact Us for Steering Wheel Repair or Replacement
Call us today to schedule an appointment for steering wheel repair or replacement in Millersville, MD. Our experienced auto technicians will thoroughly inspect your car and run diagnostic testing to assess the performance of your steering column. We work with all makes and models of vehicles, foreign and domestic. We can quickly identify a steering column problem and find the safest, most efficient, and effective solution. In addition to steering column repair, we also offer steering column replacement and power steering hose replacement. Contact us online or bring your vehicle in for a free estimate.
Free Estimates & Discount Prices Available