Skip to Content
Emission Repair Service in Millersville
Maryland Emissions Inspection by Maryland Muffler
Emission Repair Facility in Millersville, MD
Vehicle owners driving throughout Millersville, MD, and the surrounding community, are responsible for ensuring their vehicle meets or exceeds the state's emissions standards. The state of Maryland requires testing through the Vehicle Emissions Inspection Program. If your vehicle has failed its emissions test, you may be fined for driving it. Luckily, the experts at Maryland Muffler offer complete emissions repair and inspection service for our customers. For over 40 years, our ASE-certified technicians have been working to stay up to date on the most current and innovative diagnostic tools available on the market. We will conduct comprehensive emissions checks to ensure your vehicle meets state regulations. It is the responsibility of drivers and autobody shops like ours to reduce the carbon emissions of cars, trucks, and SUVs on the road. Schedule your emissions inspection today.
What's Included in My Emission Leak Repair Service?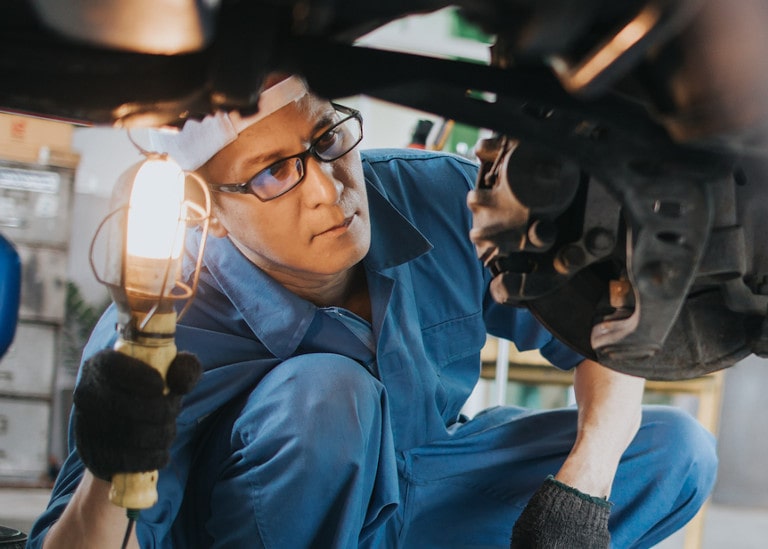 Maryland Muffler employs ASE-certified technicians to inspect your vehicle's exhaust to ensure it complies with state emission standards. If your vehicle fails its emission test, there is no need to panic. Our team has the knowledge and experience to provide complete emission leak repair services to our customers. Over our 40 years in business, we have provided emission testing and repair for a wide variety of makes and models.
Inspection – Our team will utilize digital technology that reads the number of emissions your vehicle produces during the inspection. This accurate system will give our technicians the information they need to pass or fail your car.
Repair – If your vehicle fails the emissions test, you can trust our experienced technicians to make the necessary repairs to ensure it is safe to drive. Our initial test will provide us with the detailed information we need to pinpoint the problem and make the repair.
Is an Emissions Inspection Important?
Auto emission repairs and inspections are essential for both you, as a driver, and the environment. Not only are they important, but they are also required by Maryland state law. Every two years, vehicle owners are required to have an emissions inspection for their car, truck, or SUV. Vehicles are one of the largest contributors of pollutants in the state, so it's our responsibility to ensure they are within the state's recommended limit for smog.
Why Are Emission Inspections Necessary?
An emissions test is required for every registered vehicle, with a few exceptions, including registered historic cars less than 40 years old, electric and diesel-powered vehicles, and motorcycles. The primary purpose of an emissions inspection is to ensure that your vehicle is safe for the environment. Each of us can do our part to reduce air pollution by following the state-recommended emissions inspection schedule.
Protect the Environment – Emissions laws are in place to protect the air we breathe and the water we drink here in Maryland.
Keep Your Car On the Road – Admissions inspections can help keep your vehicle operating smoothly. Many issues that may cause your car to fail an emissions test will also cause other systems to fail.
Required – In the state of Maryland, it is required that your car pass an emissions test every two years.
We're Millersville, MD's, Trusted Emission Repair Facility
When it comes to emission tests and repairs, there's no better team to rely on than the professionals at Maryland Muffler. Our ASE-certified technicians have the proper tools and technology to ensure that your vehicle is compliant with state emission regulations. Throughout our 40 years in service, we have helped numerous vehicle owners enjoy a safer driving experience. If your vehicle is due for an emission inspection or needs emission repairs to pass the inspection, contact our team to schedule your service.
Free Estimates & Discount Prices Available