Skip to Content
Professional Auto Repair in Millersville
Keep Your Car in Top Condition with Our Auto Repair Services
At Maryland Muffler, we understand that finding reliable auto repair shops you can trust isn't always a simple task. Therefore, we are upfront about our ability to handle challenges with your car, and we'll never try to sell you on a service you don't need. It's also why we apply the most exact quality control standards to any vehicle that leaves our facility. This isn't just so we can earn your return business, but because we put the safety of our customers above all else.
Maintaining your vehicle now is the best way to avoid more expensive problems down the road, so it's always a good idea to address potential issues when you notice them and keep up with regular maintenance. Don't wait until parts of your vehicle are completely shot before you contact an auto repair shop like Maryland Muffler.
List of Auto Repair Services
The following is a complete listing of all the auto repair services we provide for the Millersville, MD area: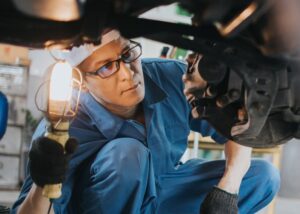 How Are We Different? 
Unlike most auto repair shops, which will try to squeeze every dime out of your wallet and provide less-than-stellar care, your safety is a top priority at Maryland Muffler. We work alongside our clients to come up with the best solutions for your budget and will make sure your vehicle passes our own high-level standards before it is returned.  We apply decades of expertise to use the most modern tools, adding up to the best auto repair services you'll find in Maryland.
Contact Maryland Muffler for Auto Repairs Today
We offer free estimates on repair services with no strings attached, so all you need to do is pay us a visit to find out if your car is working properly. We also provide specials and discounted services, where applicable. To find out more, feel free to contact us today!
Free Estimates & Discount Prices Available