Skip to Content
Vehicle Oil Change Services in Millersville, MD
Maryland Muffler Is Your Local Oil Change Specialist
Vehicle owners in Millersville, MD, and the surrounding communities rely on their vehicles to help get them wherever they need to be. To ensure you get the most miles from your car, truck, or SUV, it's crucial you schedule routine oil changes. Most vehicles require an oil change every 3,000 to 5,000 miles to prevent unnecessary wear and tear to your engine's parts. The knowledgeable and certified technicians at Maryland Muffler have the proper tools, parts, and experience to keep your vehicle safe and easy to drive. For over 40 years, we have been assisting vehicle owners throughout Millersville, MD, and the surrounding community. They trust us because we take pride in our work. We provide oil change services for most makes and models. Contact our auto shop today to schedule your oil change with us.
What Is an Oil Change Service?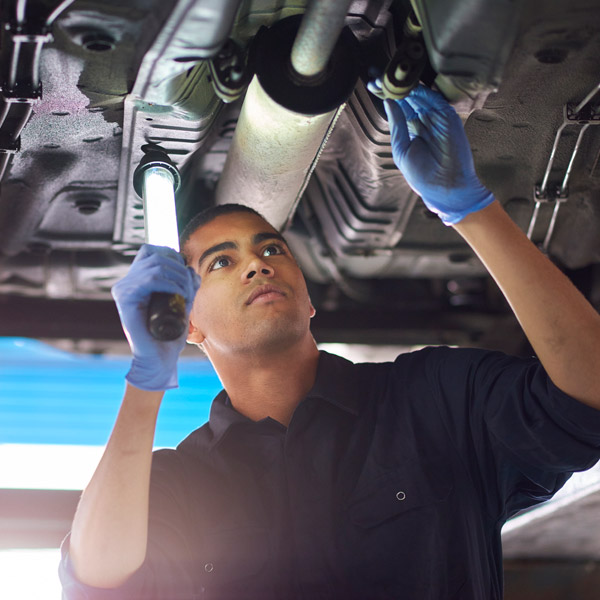 At Maryland Muffler, we offer comprehensive oil change services for cars, trucks, and SUVs. When you choose us for your vehicle's oil change services, you can feel confident our certified team of technicians will conduct a thorough oil change service for your vehicle. An oil change service varies from a traditional oil change in a variety of ways. An oil change service is a more comprehensive service for your vehicle and includes an oil change and safety check to ensure your vehicle is operating smoothly. When you choose Maryland Muffler for your oil change service, our technicians will:
Replace the Oil
Replace the Oil Filter
Check Air Filter
Check Cabin Filter
Top Off Fluid Levels
Lubricate Your Vehicle
What are the Benefits of Oil Change Services? 
Your vehicle's engine is made up of metal parts all working together to make it run. Oil is used to lubricate those parts to make them run smoothly and to prevent more rapid deterioration. However, after 4,000 to 5,000 miles, the oil becomes filled with pollutants and less effectively protects your vehicle's engine. So, it's important to follow your manufacturer's schedule for oil change services. At Maryland Muffler, we've completed oil change services for numerous vehicle owners in the area. Learn more about the benefits of our oil change services.
Your Vehicle Will Run Smoother – The moving parts in your engine need lubricant to reduce friction. With routine oil change services, your vehicle's engine will operate more smoothly.
Extends Engine Life – Without oil, your engine parts will deteriorate more rapidly, causing your engine to fail. If you ignore the warning signs for too many miles, you may experience total engine failure.
Prevents More Costly Repairs – Oil change services are a high-value and affordable preventative maintenance option for your vehicle. Various issues can arise when your engine is low on oil or the oil in it is too old and dirty. Regular auto oil change services can help you avoid these kinds of costly repairs.
We're the Area's Preferred Oil Change Service Company
Since 1981, Maryland Muffler has been the preferred oil change service company in Millersville, MD. Vehicle owners throughout the community trust us with all their service and repair needs. We combine our years of service with our dedication to customer satisfaction to ensure each customer is treated with respect. We have access to high-quality parts to help keep your vehicle on the road longer. Experience the difference for yourself:
Approved by the BBB
ASE-Certified Technicians
Latest Diagnostic and Repair Equipment
Locally-Owned and Operated
Decades of Experience
Choose the Local Leader for Oil Change Services
Over our 40 years of serving the local community, we've had every type of make and model drive into our shop. With the right experience, knowledge, and diagnostic equipment, we've always made the necessary repairs to get them back on the road. Routine maintenance such as oil change services will allow you to get the most mileage from your vehicle. At Maryland Muffler, our comprehensive oil change service will keep your engine and vehicle running smoothly for years to come. Whether you're a long-time customer or this is your first time visiting our auto repair shop, our goal is to ensure you're entirely satisfied with our service. For over 40 years, we have been the premier auto shop providing auto oil change services. Contact our ASE-certified technicians to schedule your service today.
Free Estimates & Discount Prices Available